The rest of the world is finally realizing that while women don't make as much money as men do (overall), that we are the gender that buys most of the products and services in the U.S. — but just among us girls, we knew that didn't we?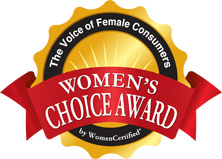 I just read an article in USA Today about WomenCertified.com and here's a quote from their website:
When searching for a brand, business, or service, you can take a chance with your time, money and piece of mind, or you can search for a company or brand that other women trust and would highly recommend!  It's like speaking to hundreds of your closest friends and asking for their recommendation. At WomenCertified we do the asking for you, and award and list those businesses that are highly recommended by women!
When you click through to their site above, click on the "Preferred Business" tab and then click on the "State" you are located in to view who is "women certified" in your area.  I randomly clicked on 11 states and found only one mortgage company mentioned.
I just wanted to let you know, because it would be a great way to market your mortgage practice—especially if you own a mortgage company, are part of a "mostly" women company or team of women loan originators.   Once you get "certified" it would be a great marketing tool to blog about, include in your email signature and mention in your advertising.
Oh, and please let me know if you get "certified" so we can brag about you!
Question for you…
In my mortgage practice, I am "certifiably" the best at ___________________________________________!