About MortgageGirlfriends.com (created in 2007).
Hi, this is Karen Deis, and being in the mortgage, appraisal, real estate and new construction lending business for 28 years, I was one of the first women to originate loans way back in 1972.
With all of the sales and marketing knowledge, mortgage experience and mortgage industry contacts, I became one of the first women to provide online training to loan originators…but enough about me!
Mortgage Girlfriends was born in 2007—with Jenna Lindseth as Co-Founder! Jenna has worked with me since 2002, maintaining the day-to-day operations of my websites. She is in the glue that holds the technical stuff together…maintaining the website, updating content, making sure you can access your membership pages and is
available when you need help.
Here's the thing. Women conduct their mortgage business differently than men—it's not good or bad—just different. So, Mortgage Girlfriends membership group was created for the following reasons:
To

network

and share ideas with other mortgage women throughout the United States and Canada
To

educate

you with incredible articles, classes, interviews, videos, scripts, marketing downloads; resources for you – from other women – who have been there, done that!
To have a "

private" space

to ask questions, share your concerns, tell your stories.
To

empower

women to take control of their business—and improve their lives and the lives of their families.
To

mastermind

with the best of the best—who are eager to help you along the way
To offer you

coaching

when you need it most.
To provide

discounts

on products and services designed to help you increase your business.
To give and get loan

referrals

from other mortgage women. Visit here for a list of membership options!
Oh, and one more thing, we hold face-to-face Mastermind events where you can meet and network with successful women from other areas of the country.
We have built a culture over the years in which women help other women. We're thrilled that you found us and thanks for your time to learn about the benefits of joining the Diva Sisterhood!
Our motto: LENDING EACH OTHER A HAND!
We hope you'll consider joining this exclusive group.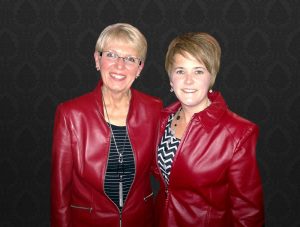 Karen Deis, Founder
Jenna Lindseth, Co-Founder