Women Keep Asking Me About the Discounts!
I get emails and phone calls regarding the discounts offered to mortgage women who are members of Mortgage Girlfriends.
While you'll find a list of discounts when you click on the "Shopping Mall" and "What Karen Recommends" toolbars, I thought I'd list them for you all in one place so you can see that "membership has its privileges"!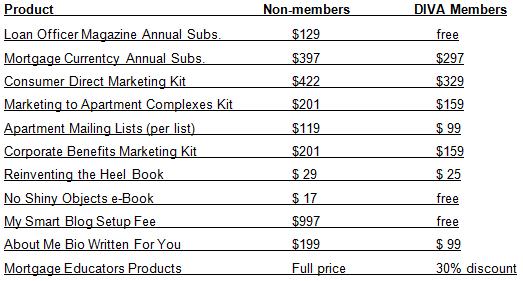 So, not counting Mortgage Educators products and more than one apartment address mailing list, the total package of savings would be $1,544.
I know, I know.  I should have shared this with you sooner.  And I know that you probably won't order everything on this list.
But one or two of these may be just the ticket to help you with your marketing this fall and winter, and the savings may virtually offset the price of your monthly ($37) or quarterly ($87) membership.