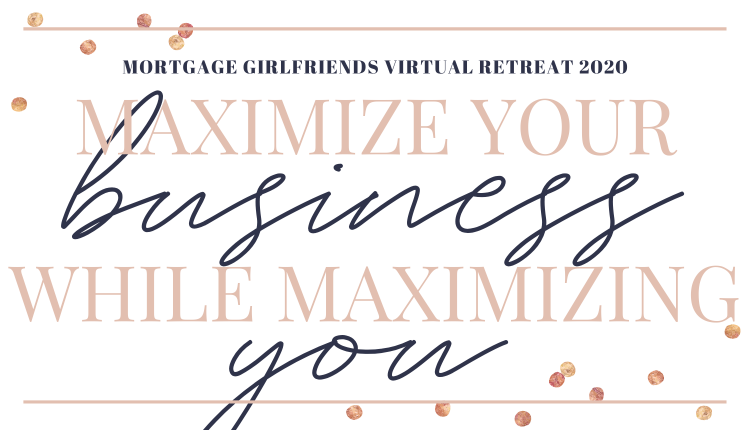 What You Missed at the 2020 Virtual Retreat
Here is a glance into the seminars and events of last week's retreat
Wow, Girlfriends, what a week!
Hundreds of you joined us last week to learn and grow from our Virtual Retreat, and it was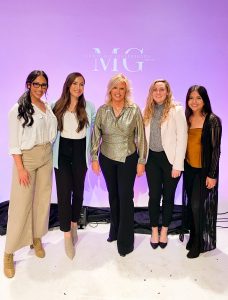 better than we had even dreamed! Our speakers were passionate, their seminars were empowering and educating, and our attendants were engaged, confident, and ready to learn!
2020 threw many wrenches in all of our plans in ways that we could have never anticipated. As disappointed as we were to have had to cancel our in-person annual retreat, we decided immediately that we would innovate and adapt in order to provide our Mortgage Girlfriends with this unique learning and networking opportunity. We had to change plans, learn new skills, and be flexible with what the world threw our way, but our team rose to the challenge to put together a fun and valuable experience for all of you.
After months of planning, our Virtual Retreat took place October 22 and 23 and focused on "Maximizing Your Business while Maximizing You!" Our speakers taught our attendees how to efficiently manage their time during this record-setting year, as well as how to strategically use time for themselves to maximize their self-care and their satisfaction in their career. 
Couldn't attend the event? Here is a sneak peek into what you missed:
---
DAY ONE:
Mortgage Girlfriends Owner, Cyndi Garza, kicked off the retreat with warm welcomes, a fun giveaway, and by introducing our event Emcee, Franceska Boerman. Franceska provided the run-down of the day and graciously introduced our first speaker, Adrienne Dorison.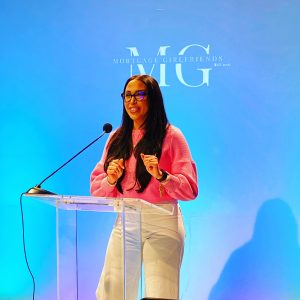 Adrienne Dorison is a CEO, author, and a time management expert with over 10 years in the field of operational efficiency. With an emphasis on finding the balance between work and home life, Adrienne presented her seminar "The One Skill You Need to Increase Your Business and Your You Time" which was a crowd favorite with the attendees! 
We continued the excitement of Day 1 with Robyn Berg, a President's Club Loan Officer who prides herself on being a high producer while preserving the valuable time she gets to spend with her family. Robyn shared her transformative strategies that she implements into her practice so that she can "Remain in the Top 10% with Closed Units Nationally  while Working Less Than 40 Hours a Week." Robyn concluded her seminar with an engaging Q & A session that answered the personal questions of our attendees.
Though Robyn's powerful and informative seminar was hard to follow, our next guest speaker dazzled the audience with her seminar "Attract More Clients and Referral Sources with Captivating Speaking Skills." Michelle Barry Franco is an author, podcast host, speaker, and the public speaking coach of TedX. She taught the attendees how to improve their public speaking skills and how to utilize speaking opportunities to increase their business and revenue. Michelle's seminar was engaging and educational, and her Q & A session was buzzing with excited questions!
Kristen Brogan was our next guest speaker, and everyone was eager to hear what tips and insight she would share in her seminar about "Mindful Eating." Kristen is an author, registered dietitian, chef, and yoga instructor, and she knows how challenging it can be to eat mindfully when you are busy from sun-up to sun-down. She equipped our attendees with strategies to eat mindfully throughout the week to improve their health, energy, and focus, and reminded them that an investment in their health is ultimately an investment in their success and business! By the end of her seminar, most of our attendees were ordering shipments of Cod Liver Oil and Spirulina — it was an absolute hit!
We closed out Day 1 with a beautiful vocal performance by Janette Holland as she sang "I Believe You Can Buy," which became the theme song of the event! Franceska Boerman returned to the stage to present lavish giveaways to lucky winners, and Cyndi Garza concluded the day with words of encouragement and empowerment.
---
DAY TWO:
After the fun of Day 1, our attendees arrived for Day 2 ready to learn and engage! Cyndi kicked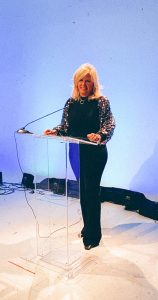 off the day by touching on some of her favorite lessons from the day before and expressing why Mortgage Girlfriends holds such a special place in her heart. To begin the day with a bang, Franceska presented another giveaway to a lucky winner before introducing the day's first speaker, Mortgage Girlfriends Founder, Karen Deis.
Karen is a Mortgage Marketing Specialist, mentor, author, and speaker, and is an absolute crowd favorite with her valuable knowledge and attention-grabbing anecdotes. Her seminar, "Things Your Mother May Have Never Taught You" touched on important lessons for the mortgage industry and life in general as a woman. From how to accept compliments to how to hold your ground in a male-dominated industry, Karen provided expert advice and encouragement that set the momentum for Day 2!
The next seminar was highly anticipated by all who attended the event! Members of The Marketing Firm team presented "Top Strategies for Maximizing Your Business with Social Media" and taught our attendees why and how to utilize social media as a business-building tool. Backed by research and expert-insight, The Marketing Firm provided strategies, prompts, and tools that empowered the audience to utilize social media to its fullest potential! During their Q & A session, the audience was able to ask personal questions about their social media strategy and receive personalized feedback on how to maximize their platform!
As if the day wasn't already off to a great start, the next speaker was the undeniable favorite of the event: professional model and photographer, Michael Rischer. Presenting with the Tennessee mountains in the background, Michael explained why having high quality photos of yourself is important when growing your business, and then shared five of the most flattering poses for business women. He went on to explain how to have confidence in front of the camera in order to produce powerful images and shared a few styling tips and tricks.
After a brief intermission, the seminars continued with an expert panel discussion hosted by Cyndi Garza. Focusing on how to keep the momentum of 2020 up and into 2021, the panel of mortgage experts shared their insight on how to stay energized, motivated, and innovative in this banner year and beyond. Attendees were encouraged to ask questions, and many received personalized advice from the experts. 
Concluding the seminars of Day 2 was Richard Krause, a tax attorney who shared valuable information regarding the taxes of earners with a large W-2. As a voice for the taxpayer, Richard provided the audience with insight into how to retain the greatest amount from their W-2 and protect their earnings during tax season. With this record-breaking year coming to a close, there was no better time to learn from the expertise of Richard Krause!
At the conclusion of Day 2, Cyndi Garza and Franceska Boerman returned to the stage with the members of The Marketing Firm to discuss the key takeaways from the last two days. Flipping through pages of notes, they shared their favorite lessons, anecdotes, and laughable moments with each other, and then visited the chatbox to share the favorite moments of the attendees as well! With one last giveaway and the clinking of champagne glasses, the Mortgage Girlfriends team said their thank you's and goodbyes to this amazing event!
---
Thank you so much to everyone who attended this year's Virtual Retreat! It was better than we could have ever hoped and we are so grateful for all of you. We cannot wait for future events! Stay tuned!
If you missed the event, don't worry! A recording of the full retreat will be available for purchase soon! To sign up to be notified when the retreat recording is available, email us at [email protected]. 
Sad that you missed this amazing opportunity to grow and learn? Then don't let the next opportunity pass you by! Mortgage Girlfriends owner, Cyndi Garza, is offering a VIP Mastermind that will help you take hold of every aspect of your business and your life! Learn more about this exciting opportunity and register today by clicking here!