Looking in the mail box a few weeks ago, I found a flyer distributed by PLK Lawn Service. Normally, a flyer like this would just have the name of the company, phone number and email address.
Not this one!
This one also contained a list of services they provide—along with a price list.  Grass cutting ($20 hr.). Pick up dog poop ($10 per ¼ acre). Trim trees (10 cents per branch). Power washing (call for quote).  There were about 7 other services listed.
So, I called them.
Three teenage boys appeared at my door.  When they introduced themselves, they told me how they met each other in high school.  That all three of them liked to work.  And they liked money.  (Isn't that the ultimate goal anyway?)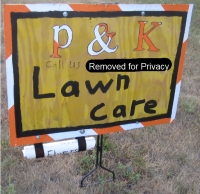 After describing the work I wanted done, PLK Lawn Service gave me a written quote.  They gave me a form to fill out so they could add my info to their database.  They cut the lawn and asked me to inspect it.  They wanted to know if I approved. If I would comment on what they could have done better.  They then presented me with a written invoice.  I mentioned that I might not have the cash to pay them now.  They said, "That's okay, our policy is that you have 7 days to pay."
The point of this story? These 3 teenage boys had a compelling story (about the "why" of their business). A business plan. A marketing plan. A database. A list of services (think niche marketing). They asked for advice. They had a cash-flow plan.
Yes, I am impressed. If three, 14-year old boys can do it, you can too.