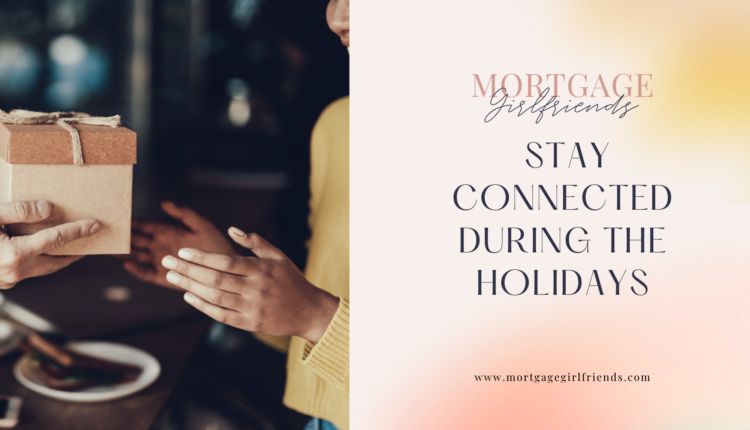 Stay Connected During the Holidays
Girlfriends, stay connected during the holidays.
The holidays are typically a slow time of the year for many realtors and loan officers. It is critical to stay in touch with both your clients and realtors during this time.  
The biggest event you can do is host a client appreciation event. There are many creative events you can host. You can host a cocktail party, bowling night, food tastings, design or staging events, or wine appreciation. Here are the things to keep in mind when organizing an event:
Figure out why people would want to attend. Yes, people like free food or liquor but what other attraction is there?

Work with a local business and coordinate something new. Is there a new restaurant in town? How about a great musician? The more you connect your event with something people are interested in the more likely they will attend. 

Use local people for the event. Any products you use buy locally. You can also have a few tables at the event where a local businessperson or two could share their wares. Is there something new and exciting in your area? If so include them in your event. 

Is there a charity you support? Invite them to the event so your clients can see what you support. If there is something the clients can bring to donate to the charity have them do so. You could even have a drawing for everyone who brings a donation. 

Finally, market your event. You can advertise on Facebook or contact your sphere of influence. Sometimes a nice handwritten note via snail mail will gain the most response. Make sure you take pictures during the event and share them socially. You can use these for further marketing later in the year. Make sure you send a thank you note for attending. 
You can also work with your realtor partners and host different events in a neighborhood they are farming or one you choose. You can send out an announcement and judge the best-dressed door or street decorations in the neighborhood and give out a prize. Do you have a singing voice? Join your business partner and participate in a neighborhood sing-along. You can even invite some of the neighbors. 
You can host a neighborhood social event at the local park or clubhouse if in an association. How about in your own neighborhood, you could host a tree lighting event at the park, your house, or the pavilion. You could sponsor this event in their neighborhood and provide hot chocolate, or coffee, and hand out candy canes. Do you want to just help with getting ready for the holidays? Hire someone to help hang outdoor lights or a landscape crew to remove leaves or shovel the snow. 
Use social media to promote the above events or simply take pictures of the best outside decorations and run an online social media contest on who has the best, the most unique, or the gaudiest. Remember to ask permission first.  
You could drop off a small holiday gift at your client's house (do as many that fit into your budget and will likely refer you).  You can put together a jar with ingredients to make holiday cookies, drop off cookie dough, or the ingredients to make a festive holiday drink. Make it simple and drop off a poinsettia or amaryllis bulb kit or even a holiday ornament. Do you want to do something easier? You can give a gift certificate to a home improvement store like Home Depot or Lowe's. They will have something for everyone. You can do these for your clients and for your business partners.