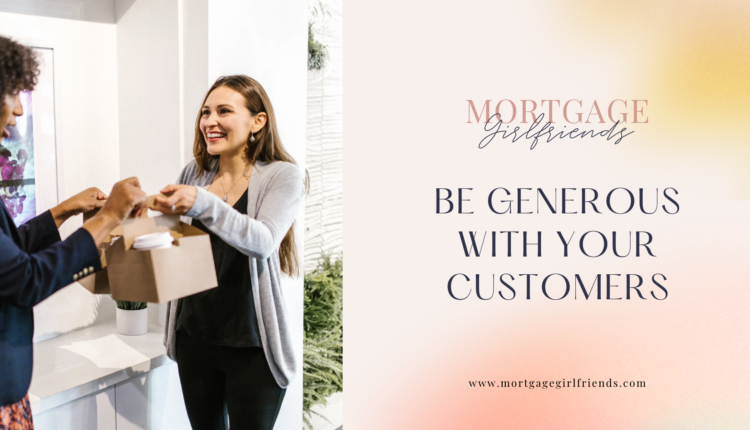 Be Generous With Your Customers
Girlfriends – Be generous with your customers.
The most important thing you can do is love your customers. Use every opportunity to stay in touch with your existing customers. There is no doubt these are difficult times; however, your customers will be your most loyal referral base in the future. Either they will purchase a new house, refinance the current one, or refer you to their family and friends. 
Social media is one way to stay in touch. You can share your expertise in a way that is not pushy or comes across as a sales pitch. First, pick the platform where your ideal clients are hanging out.  
Facebook is the largest social media platform in the world. It has over 300 million users in the United States. It ranks as the highest top social media platform based on users.

YouTube is the second highest-used platform right behind Facebook. The United States has 240 million active users. 

Instagram has an estimated 100 million users in the United States.  Over 70% of adults between the ages of 18 and 30 use Instagram. 

TikTok has over 80 million users in the United States.  The largest group is Gen Z's (currently aged 12-26).  Is it time to start providing the largest population with information about their future?

LinkedIn has over 190 million users in the United States. It is the largest outlet for business-to-business marketing. 
Once you pick your top platforms make sure your content has a personal touch. You can share a video on tips for the first-time home buyer or an interview with a client sharing their story on how you helped them. By adding personal touches, the content will stay longer with your audience versus giving them facts about the current market. Not everyone is currently in the market for a mortgage. People want to do business with people they know, like, and trust.  
Be sure to engage with your clients by responding to their posts, asking and answering questions, and wishing them Happy Birthday and Happy House Anniversary. When it is time for your customer to either recommend a loan officer or make a new loan decision for them you will be top of mind. 
Another way to be generous and share your experience and expertise is by blogging. These can then be turned into emails, social media posts, and even videos.  Blog about things that affect your clients on a day-to-day basis, giving them information, they can use to make informed financial decisions. Instead of blogging, you can vlog. These are video blogs. Set up a YouTube channel and provide information in a video. Do quick and casual videos with useful information, that people can easily comprehend and use. You can share these on your social media platforms and even your own website. 
Consider spotlighting a local business or doing an interview with businesses that can provide services to your clients by answering some basic questions. For example, interview a roofing company that might give tips or hints on what to look for in an aging roof and what you can do to extend the life expectancy.  Interview an insurance agent and let me talk about having the right coverage. 
Do not forget about traditional email marketing. You can offer an annual mortgage checkup or educate about potential refinancing or purchasing a rental property.  You can also stay connected by acknowledging all important events with your customers.
Consider all the non-technology marketing when being generous in thanking your customers. Host a client appreciation event. You can include your referral partners, customers, and prospects. Here are some examples but be as creative as possible. Remember your client demographics when arranging. 
In the summer hold an ice cream social. Have a wide variety of ice creams and toppings and hold the event outside on a nice summer day. 

National Pie Day (not to be confused with Pi Day) will be January 23, 2023.  Send a gift card to your clients to pick up a pie at a local bakery or have a get-together and auction off a few dozen pies.   

You can do something similar with Pumpkin pies in the fall.  

Host an event at a corn maze and offer cider and doughnuts. 

Offer to pick up clothing they no longer need and donate them to a local charity. 

Host a trivia night with some fun prizes.