Lookie, Lookie – New Mortgage Girlfriends Website Features
Well, our goal was to get the MortgageGirlfriends.com website updated and easier to use by the end of the year—and as of today, the new website is alive and kicking, with 5 days to spare)!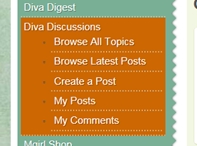 One of the huge (and I mean biggie) features was adding back the DIVA DISCUSSION BOARDS (several members requested we bring this feature back).   
You'll find this section has been broken down into different discussion categories:
Refer a Loan to a Mortgage Girlfriend member
Realtor/Builder Marketing
Marketing to Clients
Affinity Partner Marketing
Personal Improvement
Social Media
Recommend a Product/Service
Recommend a Loan Program
Owner/Manager Discussions
When you log in and click on the DIVA DISCUSSION toolbar, you'll find the latest discussions that have been posted (no matter the category).  If you prefer to search by category, simply choose BROWSE ALL TOPICS and select the topic that interests you.
If you'd like to start a new discussion…simly click on CREATE A POST!
If you'd like to join in an already created discussion post, click on CONTINUE READING to get to the entire post.  At the bottom of the post is a box for you to leave your comments about that particular post.
You can elect to follow any particular post and also any particular category (so anytime a new discussion is started in that category, you're notified via email).  You can also opt-out from a post/category email notification, at any time.
Consider this your "virtual" way to MASTERMIND with one another online.
We encourage you to visit the DIVA DISCUSSION boards often.  On a weekly basis, we will post a "question of the week" for you to comment on.  We will also let you know the "most talked about" discussion that week.
---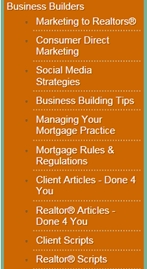 You'll also find that it's easier to find content in the Business Builders section as we've now setup categories.
Marketing to Realtors
Consumer Direct Marketing
Social Media Strategies
Business Building Tips
Managing Your Mortgage Practice
Client & Realtor® Articles (Done-4-You)
Client & Realtor® Scripts (Done-4-You)
---
One more thing.
With 2015 just around the corner, as you plan your business strategies, one of the advantages of membership is your free, one-hour strategy sessions with industry experts (you can schedule calls with as many experts as you'd like).  You'll find the listing of experts when you visit the EXPERTS CORNER tab.
Thanks to all of our diva members for being a part of the diva sisterhood!  We hope that 2015 is your best year ever in the mortgage business & that we can play a role in your success!
Hugs, Karen & Jenna
P.S.  If you're not part of the sistehood yet, we'd love for you to check out our different membership options!