Just who the heck do you think you are?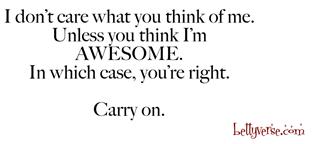 I was THE FIRST woman mortgage loan originator in my city way back in the mid 70's.  I got a call from a competitor who said (and I quote), "Women loan officers aren't going to be accepted in the mortgage industry so when you don't make it, you can come to work for me in the closing department."
I opened the FIRST, all-female owned mortgage broker in the community (with all female employees).  One of my competitors told a Realtor friend of mine that "She's never run a mortgage company before—she'll be bankrupt within 6 months."
Oh, and when I was one of the FIRST to provide online training classes in 2000 for the mortgage industry, they said "no one was ever going to attend this new, fangled, Internet-way of learning."
So, who the heck did I think I was anyway?  Thinking I could do something that "others" didn't think I could (or should) do?
Truthfully, it bothered me.  What made me think I would make a good loan officer?  Run a mortgage company?  Own a half dozen internet companies?  Or put together a group called Mortgage Girlfriends?
Maybe you've even asked yourself—"Hey sista…who do you think you are?"
So, I'll ask you – is there something you've always want to do?  Like try a new mortgage niche?  Get your foot in the door with an awesome real estate agent?  Hire outside help.  Take a sabbatical.  Do videos. Write blog posts.
What I've come to realize is that there are a handful of people out there who want you to fail!  But, there are even more people who want you (and will help you) to succeed!  Here's what I think:
Do it anyway.  Your supporters will be happy for you.
Don't be afraid to make mistakes.  It shows you have character.
Be passionate.  If you help people solve a problem in their lives, you don't need anyone's approval.
Fake it till you make it.  You'll be scared but after a while, the fear will go away, to be replaced with confidence.
Don't go it alone.  There are a ton of resources out there, including other mortgage girlfriends, who are more than willing to help you out.
So, let's change the question to…"What the heck do you think you want to do?"