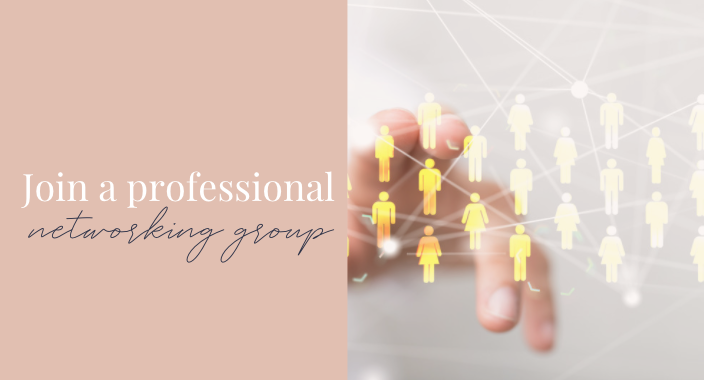 Join a Professional Networking Group
Girlfriends: Join a professional networking group and a referral group. 
Girlfriends, Join a professional networking group and a referral group. 
Different networking groups can have different agendas.  You can choose one that is specific for your field, or one that is a specific leads generation group.  Often, we join multiple groups and as long as the are helpful keep attending. 
Joining a networking group specific to your field will help you stay on the cutting edge.  Usually, these groups involve presentations or trainings from leaders in your field. This gives you an opportunity to learn about changes and trends in your industry. By attending events you will receive education that can help your business prosper. 
When in a networking group you will find people that want to support you.  The organization will create a sense of camaraderie that itself will find people who are willing to help you.  
Being involved with a professional organization will give you credibility with your customers and referral partners. When they know you are dedicated to your industry, they will have confidence in your ability to find solutions to situations that arise. 
When those you have met in networking situations come across someone that needs your service, they are more likely to recommend you because they now have a personal relationship with you.  A competitor may also recommend you as you may have a product or service that they do not.  Likewise, you will meet people that have a product or service that would fulfil a customer's needs that you cannot provide, and you can reciprocate by referring them. 
Oftentimes when being involved in a networking group it gives you other membership benefits like discounts, coupons, or other perks available to members of the group. 
By being involved in a networking group you can make a difference in your industry. You are considered a leader in your industry and looking for solutions and ways to improve what already exists. 
Interested in reading the full article? Become a VIP member today! www.mortgagegirlfriends.com/join-today
DON'T FORGET! 
The Mortgage Girlfriends BOLD Conference is coming up on October 14th-15th in Chicago, IL. To read more and get your ticket visit