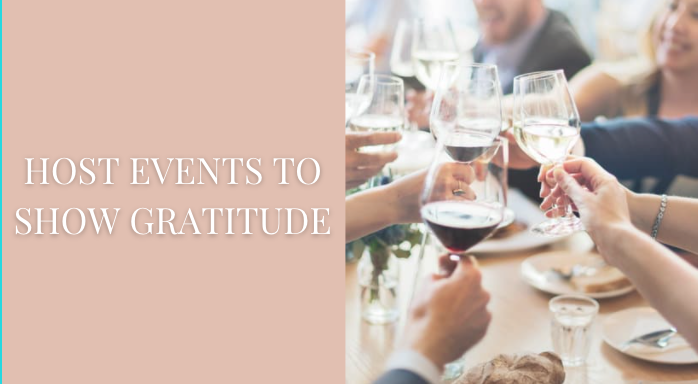 Host Events to Show Gratitude
Girlfriends – Host an event to show your gratitude
It has been a challenging year, however, there is light at the end of the tunnel. Events and client appreciation venues allow you to reconnect. When you invite clients to something fun and memorable, they tend to remember you and a bonus is when they start referring to you. 
Keep in mind your audience when planning an event. For clients, plan the event with both adults and children in mind so the whole family can attend. Is your demographic over 60, then plan the event with that in mind?  You should have food and drinks available.  If you are doing a catered event, they should be able to handle that. 
Create an invite, make it electronic, have an RSVP, and send it out. Bring lots of business cards to your event. You want to have them available when someone asks. This is not an event to pressure your clients or prospects into buying. There will be plenty of people that just ask for your card, so have them ready.  Mingle at the event. Make sure you have time to speak with the majority of the people. After all, this is a chance to meet and greet without being in an office. Have your clients bring a prospect.  
Listed below are some ideas with some that allow for more social distancing.
Drive-in Movie. Host a movie event just like in the theatre, however, everyone remains in their car.  You can greet them as they arrive or walk around the different cars. 

Rent a movie theatre and provide popcorn and soda for everyone attending. 

Photo Shoot – You can tie this around a holiday and schedule times for people to come in for their family photo.  You can also hire a photographer to go to their home for the photos. 

Thanksgiving or Christmas basket – You can deliver a small gourmet thank you basket to your clients.  

Free Coffee – You can work with a local coffee shop and have coffee ready to go and host an open house at the same time. 

Provide a turkey lunch around Thanksgiving. Find a venue where it is outdoors or a large venue that you can socially distance. 

Work with a builder and host an open house with a spec house. This can give the builder some exposure too. You could work with a realtor and do the same. 

Host an event at an outdoor park with games and a picnic.

Hold an outdoor exercise class.

Work with a local farm or tree farm that has hayrides and other outdoor activities. Around Halloween, you could have apple cider and doughnuts or a pumpkin carving contest. 

Rent out a bowling alley.

Have a tasting session at a winery or brewery.

Give away pumpkin pies. Have them preorder and they come by your office and pick them up. 

Host an online trivia night with prizes.  

Weekend donation.  Have a drop off at your office for various items for goodwill or another charity. You could extend it, so you pick up the items at their home.

Have a winter coat drop off and free hot chocolate, cider, and caramel apples. 

If you have a local sports team, host a tailgate party before the event. 
After every event follow up with a thank you text or email and a reminder you are always available for an appointment. Include photos that you have taken and make sure you upload them to social media, and tag as many clients as possible. 
Here is how to double your business, co host with a realtor. You can work as a team, when one of you finds a hot lead, you can give the prospect a crystal-clear picture of the outcome and play off each other's strengths.  When you have two hosts you will have a larger turnout as you will be doubling your guest list. Two of you will allow for more networking time.  Finally, you are splitting the cost, allowing you to save some money. 
Interested in reading more? Become a VIP Member today: https://mortgagegirlfriends.com/join-today/