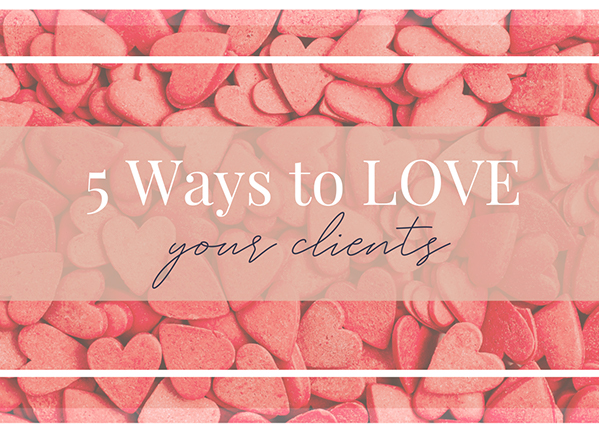 5 Ways to Love your CLIENTS + Last Chance to Register for Cyndi's BRUNCH & LEARN
Your clients are the heart of your business - here are a few ways to show them extra love.
It's almost V-Day, girlfriends! In honor of the month of love, we're covering not only how to love your referral partners, but how to love your clients, too!
As mortgage professionals, we know that our clients are everything to us. They are our WHY. We know their happiness and helping them with their home financing gives us all the warm fuzzy feelings and inspires us to keep going. That's why we need to show them love and appreciation back.
Here are 5 ways you can show your clients a little extra love both during and after their process.
-Good Communication + Availability
One of the best things you can do for your clients is to be AVAILABLE. This goes hand in hand with also providing open, honest, and frequent communication. It's important to remember that while you do this every day and have multiple clients you are serving, to them, this is the most important transaction of their life and they have placed their trust in YOU to see it through. In short, be available and return emails and phone calls in a timely manner.
-Make Life as Easy as Possible for Them
We all know the mortgage process can be intense. Especially if you are a first-time buyer and have no clue what homebuying or home financing involves. This is where you come in to explain the process in layman's terms as well as what you need and how they can get it to you as efficiently as possible. Make the process easy, and exciting for your clients!
-Post their Closing on Social (with permission)
Buying a home is a BIG deal! Show your clients some love by congratulating them on their closing through social media. Of course, you must ask for permission before posting, but this is a great way to not only showcase your clients but to also get them connected with you on social media so you can stay in front of them for their future home financing needs. Hello referrals and refinances!
-Offer a Closing Gift
To mirror the above, purchasing a home is a BIG deal. Help your clients celebrate by bringing a congratulatory gift to the closing table! This can be anything and unique to your brand. Maybe it's a nice bottle of champagne, a gift card to a local spot in their new neighborhood, OR something they can use in their new home like a toolbox or cutting board. BONUS POINTS if it's branded with your company name/logo!
-Stay in Touch
Just because the closing is over doesn't mean the relationship has to be. One super important part of nurturing client relationships is staying in touch. A few ways to achieve this is to get connected on social media, send birthday emails/phone calls, or even follow up 6 months later asking how things are going in the new home and if there's anyone they know that you can help with financing. Keep the relationship going and you'll be surprised to find that they reach back out to you with referrals, refinancing needs or buying a second home/vacation property.
We hope these ideas help you better nurture your important relationships with referral partners.
Also, don't forget to register for Cyndi's latest brunch & learn on February 13th at noon! If you 💖 brunch, want to meet other amazing women 🙋‍♀️, AND want to learn powerful sales strategies ✅, this event is for you! Click the photo below to register today.