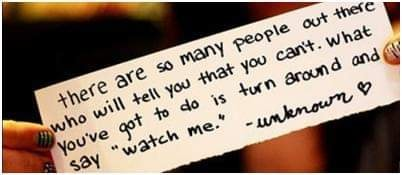 11 Personal Stories About People Who Were Told They "Can't Do That"!
Some of the most demoralizing words that a person could say to you is that you'll never succeed.  You are not smart enough.  You don't have enough money.  You are not pretty enough. 
The sad part is that some women believe it! 
I could probably call out the names of the people who told me "you can't"… Especially when I started my broker company.  So I wanted to share 11 stories by women who were told they would not be successful and their determination to prove the naysayers WRONG.
When my sister and I started my broker-based mortgage company, we were the first women-owned company in my area. One of the "guy owners" told me that we would be bankrupt in 6 months because women simply don't know how the financial market works.   We went on to be the #3 mortgage company for 10 years, and the guy who told us we wouldn't make it—was at the bottom of the rankings.  – Karen Deis
Was told by the owner of the first mortgage company I worked for that I wasn't cut out for the business; 22 years later, I am pretty sure she was wrong. – Marianne Washington
My first attempt to go from a salaried position to commissioned loan officer (early '80's) my application was rejected over and over. Finally a couple of men took pity on me, patted me on the head and told me "Good Luck, honey." They gave me a cardboard table by the copy machine, and I had to process my own loans. In the first 48 hours I had signed $50 million in builder commitments (remember those??!!). IN YOUR FACE!! (Fast forward a few years… one of those men ended up going to jail for fraud – straw buyers – which I always thought was because he couldn't stand to see me out-produce him!!) – Ruth Vogt
The company I left from almost six months ago is waiting for me to fail and come back. After ten years there they should know failing is not an option for me. I've surrounded myself with the best in the business and follow them closely to pave the way to success. – Sharon Skinner
I quit a high paying day job as a Technical Analyst/Programmer to become a full-time singer. That served me well until I got lured into real estate investing in 2005/2006. After that crashed and burned 😅some years later I went back into the tech field. Soooo….I quit the second time as a Sr. Engineer to become a 100% commission loan officer – where I am now 😊. – Jacquie Vasicek
About 30 years ago I was a loan officer for Boston Five Bank in Portland ME, covering Central Maine, not easy selling a "big city bank" in a rural area. But I made my goals every month. I was recruited by a large Maine bank. When I told my manager, young, slicked-back hair, privileged kid, that I was leaving, his response was "good luck, you'll never make it in this industry." Fast forward 10 years, I'm now a Mortgage Operations Manager for a major credit union in MA, originating $100 million a year. And guess who is now an MI sales rep? Who calls me to schedule an appointment to pitch his company…. except I'm married now so he doesn't recognize the last name. When he arrived and I went out to the reception area to greet him…. well the facial reaction I'll treasure always. He stumbled through his presentation to myself and my boss. I walked him out, shook his hand, and as he went to walk out I said "Oh, and Steve, looks like I'm making it in this industry." I heard a few years later he lost his job. Never heard his name again. But I do have to thank him because anytime anyone implies I'm not capable of something I think to myself "I'll show you like I showed Steve S." – Michelle Gaudet Belskis
I was the only female at my first company and the men made fun of my average $70,000 loan amounts – but it was MY commission check held up every single month by our RVP as top commissions every month! I did volume. I did an enormous amount of FHA New Construction on which developments had to be approved. They put me in one of the loan app rooms, which became my office. The boys stopped teasing me. 😂 – Julie Bevell-Cavellero
25 years ago I was a Processor who wanted to become a loan officer. The good old boys said I was not loan officer material. The owner of the company's son was the only one that had faith in me. They actually got into a fistfight in the parking lot because my loan officer didn't want me to leave him – LOL – not only did I become a loan officer, but I became his competition, went on to be a branch owner, and made my way to semi retire in California living the dream. "How do you like me now?" – Colleen Craig
During my first month in the mortgage business, a ReMax Realtor invited me to drop by her office. As soon as I entered and introduced myself, I was told they have a "No Mortgage Lender allowed" policy. I went on my way.

Fast forward a year or so, I received a note card from the same ReMax office congratulating me on being "the preferred lender" (no MSA, no football games, happy hours, etc…). It was earned by referrals from their agents, one by one, and taking great care of our mutual clients

Due to my husband's military service, I had to leave the area and that relationship (along with three additional builder relationships), but I still keep that note card to show me that I can overcome any obstacle this crazy business has to throw at me 😝. – Jeannine Donohue Smith
I was told by an LO in 1992 that I would end up one of three ways: 1. Drug addict, 2. Alcoholic, 3. Quitting. I'm still here! No addictions! Yay, me!! 😆Now, I won't say there hasn't been any alcohol involved. 🍷 There have been "those days". LOL – Colleen O'Day Murphy 
I started as a processor with no training. The office was throwing internet leads in the trash. I asked if I could have them. They said it was a waste of time. Ha! Started our own company six months later! – Denise McGlothlin