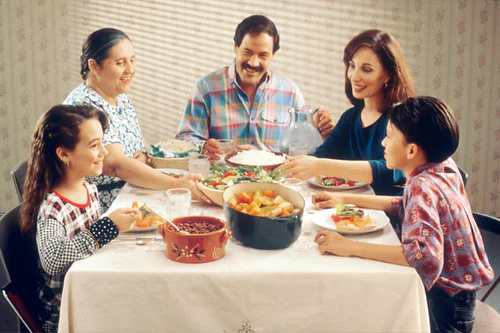 The Most Important Meeting You Hold Every Week
Do you know about the most important meeting that you should hold every week?
It's a meeting with your family.  To talk about everyone's plans for the coming week.  What happened last week (that did nor did not go according to plan.)  The goals that each would like to accomplish.  The logistics on how the plans and goals will happen.
So, you might be saying to yourself – I HATE MEETINGS!  But this is meeting is critical to not only your success, but eliminating miscommunications, and the success of becoming a cohesive family.
While we did not have "formal family meetings", we held a New Year Day family meeting every year.  We talked about school.  Vacation plans.  Birthdays and family gatherings.  Our annual hayride party.  Then talked about periodically to make sure we were all on the same page.
So, consider picking a day of the week.  Saturday or Sunday seem to be the best days to talk about the past and the coming week.  However, it's important that the family meeting be held on a consistent basis around the same day and time.
Next, have a calendar available.  Everyone should have a list of things they are planning for the week ahead.  Dates. Times. Why the activity is important to them.
Here's a short agenda for your family meeting.
What was accomplished the previous week. what happened the previous week and if the plans got changed.  How they dealt with the change.  What they learned from it.
Is there any activity that needs to rescheduled?
What events are scheduled for each family member. When and where.
Are there any tasks or goals that they need help with?
What celebrations, milestones or people do you need to work with this week.
What can we do to support each other (attend a game. Drive to an event)
What chores need to be done and who will do them
What resources are needed to accomplish goals or perform the tasks
Each person should have ample time to talk.  It could be a formal meeting.  I could be around the dinner table.  Someone is assigned to take notes.
The point is to connect—and help each other out as a family.
So, what if you are single?   You may want to create a family-type meeting with co-workers or other single friends who can be trusted to hold each other accountable.  Hey, it could even been a meeting with just yourself!
What other things do you think should be part of a family meeting?