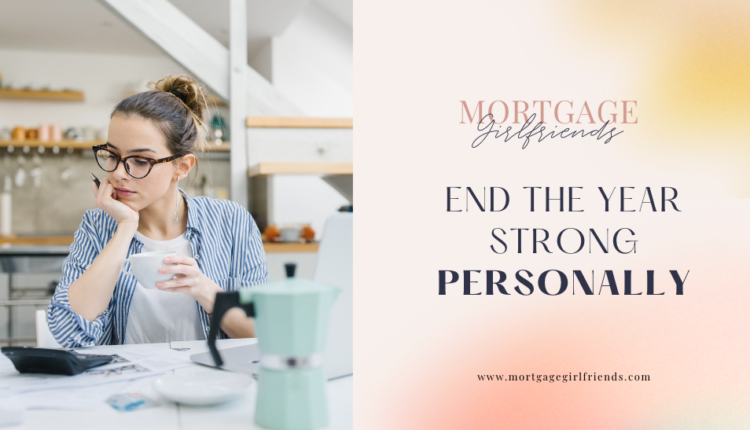 End the Year Strong Personally
Girlfriends – How is your personal life?
Not only is it time to end the year strong financially and career-wise, but how are those personal goals coming?
Rate the following areas of your life on a scale of 1-5, with 5 indicating that this area of your life is working at maximum achievement. 
How is your life working? Do you have a work-life balance? You can accept the fact that there is no "perfect" work-life balance. Balance is achieved over time, not each day. There is no perfect schedule. Some days you will focus more on work, while other days you will have more time and energy to pursue your personal life. 



Don't be afraid to unplug. Cutting ties from the outside world can help you recover from a stressful week and give your mind time to think of new ideas and regenerate. Even something as simple as not reading emails when you are commuting to work but practicing meditation can help. Other times it means truly unplugging, shutting work out completely, and taking a vacation. It could be a one-day staycation or a two-week trip to an exotic location. In addition, set boundaries and work hours. When you leave the office, leave the office. If you work from home know when to turn off the computer and say goodnight to work.  

How are you doing spiritually? Each of us has different types of goals for the year, some are for health and others for professional advancement. In any case, the goals are for one purpose and that is to achieve something. Spiritual goals are the objectives we set to get closer to God or a higher being. We all have different religious beliefs and many of us attend church and say prayers, but still want a deeper connection with ourselves and our creator. Don't be afraid to ask for guidance. Having goals is good, but having too many can be exhausting. Don't be too hard on yourself. Pray for the strength to keep you moving forward. Have you set spiritual goals before? If not here are some ideas to finish the year and begin 2023. Read the entire bible just by allocating a few minutes each day to read several verses. Actively take part in church services. Make prayer a daily habit. Keep a spiritual journal. Practice forgiveness. Give back by doing some charity. Speak with God daily.  Read encouraging books. 
How are you doing with your personal relationships? Think about being a spouse, parent, grandparent, child, and your overall family unit. Make time for yourself and your loved ones. While your job is important it should not completely consume you. No one at work will love you as much as your family so spend time with them. You must plan for personal time, or it will not happen. Create a calendar for a date night with your spouse, family outings, and visiting your parents, grandparents, children, or other family members. It could be as simple as each month or quarter (depending on distance) and stating I will visit my parents no matter what. If that means it is the last day of the month and you haven't done so yet, do it. How many times have you heard someone say, I wish I spent more time with "whomever"? Don't be that person. If you set your goal to be with someone monthly and you succeed be happy and if something happens to them you will have no regrets.